Art for All — Share the Love of Art!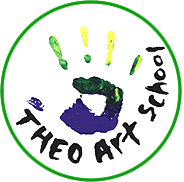 Theo Art School
Bismarck, North Dakota
701-222-6452
WHAT'S IN YOUR SUMMER? THEO ART SCHOOL!
Theo Art School's Summer Art Attack Camps provide opportunities for creative freedom and self-expression in a unique, super-fun format!
School-Age - 6 & Up:
"Art is a Time Machine!"
Preschool-Age - 3-5, potty-trained:
"Where is Their Home?"