Art for All — Share the Love of Art!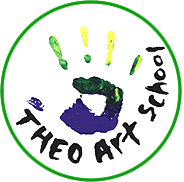 Theo Art School
Bismarck, North Dakota
701-222-6452
2021-2022 Homeschool Programs
Welcome to Theo Art School Homeschool Programs!
In our homeschool classes, we introduce students to different artists, cultures, and techniques while building their confidence and encouraging their growth. We strive for a warm and inviting environment where students feel comfortable to express themselves and get to know each other. Projects will carry over from week to week in order to enable students to create detailed, in-depth pieces. Classes are flexible to accommodate for siblings or ability level.