Art for All — Share the Love of Art!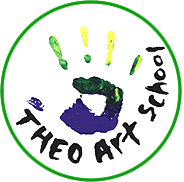 Theo Art School
Bismarck, North Dakota
701-222-6452
Welcome to Theo Art School Homeschool Art Hour!
In our art hour, we introduce students to different artists, cultures, and techniques, while building their confidence and encouraging their growth. I strive for a warm and inviting environment where students feel comfortable to express themselves and get to know each other. Project descriptions are based upon projects over a year's time. Projects will carry over from week to week in order to enable students to create detailed, in-depth pieces. Classes are flexible to accommodate for siblings or ability level.
When: Mondays 1:00-2:00 pm and
Tuesdays 10:00-11:00 am.
Ages: 5 and up
Cost: $30 for 4 Mondays, $37.50 for 5 Mondays
​