Art for All — Share the Love of Art!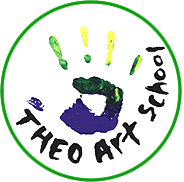 Theo Art School
Bismarck, North Dakota
701-222-6452
2021-22 After-School Art Club @Theo
Our mission with Theo Art Club is to cultivate interest in art for boys and girls and to teach them that ART is ENDLESS by engaging them in fun art experiences that will last a lifetime!
Art Club starts Sept 6, 2021, and runs to May!
The After-School Art Club introduces students to different artists, cultures, and techniques while building their confidence and encouraging their growth. We offer a warm and inviting environment where students feel comfortable to express themselves and get to know each other. Projects will carry over from week to week in order to enable students to create detailed, in-depth pieces. Classes are flexible to accommodate siblings and different abilities.
Days: Mondays
Times: 3:45-5:00 pm
Grades: 1st grade and up
Cost: $35/month
Register:
Payment is due at time of registration. Registrations are taken on a first-come, first-served basis.​
You can register online; pay in person; or register and pay by mail by printing out this form and mailing with your check to:
Theo Art School
1810 Schafer St
Bismarck, ND 58501