Art for All — Share the Love of Art!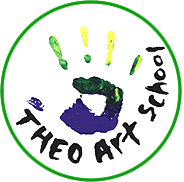 Theo Art School
Bismarck, North Dakota
701-222-6452
Theo Art School is pleased to offer art classes as fundraisers for groups and organizations. While our fundraisers are typically set up in the "Art & Wine" class format, they can be customized for you and your organization.
Our fundraisers work as a win-win: We provide the venue, the instruction, and the supplies. You bring in the students. Together we agree on a fee that is reasonable for your audience and that will raise money both for your organization and for Theo.