Art for All — Share the Love of Art!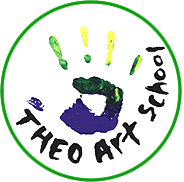 Theo Art School
Bismarck, North Dakota
701-222-6452
WHAT'S IN YOUR SUMMER? THEO ART SCHOOL!

Theo Art School's Art Attack Camps provide opportunities for creative freedom and self-expression in a unique, super-fun format!
The Art Attack Camps are week-long camps held all summer. Each camp includes charcoal drawing, watercolors, painting with acrylics, oil and chalk pastels, and a collage 3-D piece in various mediums. This summer the kiln will be working overtime with clay and glaze in each camp!
​
​
​
More Helpful Information:
​
Camps registration opens the week of March 22.
Registrations will not be processed without payment.
A parent packet will be emailed the Thursday prior to the camp.